Music industry success, as is the case in many other industries, revolves around a few universal elements relevant to any successful business endeavor: story telling, audience connection, aesthetics, etc.
Success in 2018 is rooted in the same marketing principles, however, the tactics and techniques are vast and seem to change/improve by the week. It's no secret that current digital marketing strategists spend about 20-30% of their time updating their knowledge on best practices and changes to the marketing ecosystem.
At GaldaMedia, one of my favorite types of service is providing digital marketing support for musical tours, events, album campaigns, etc.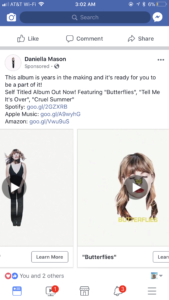 Most recently, we worked with Daniella Mason and her team at AYA Records/Tone Tree Music Label. We thought it would be helpful to share some of the digital advertising tactics used on facebook/instagram to promote Daniella's self titled release. Hopefully this provides a decent overview of music marketing tactics. I'll divide this into two parts – Part 1 focuses on the album release campaign, and Part 2 focuses on the tour/event marketing work done soon after.
Disclaimer: Digital Marketing isn't a magic bullet or a growth hormone pill for marketing, but it is a great way to amplify that which is already working based on the universal principles of marketing mentioned above. That being said, Daniella and her team are already doing a lot of things right.
There is a lot of talent, craft, and production behind her recent album, and she, alongside her management do a great job of leveraging the relationships she's made as an established songwriter in the music industry. More importantly, their strategy consists of targeting their relationships in the music media circuit, which resulted in a good amount of features in music magazines and platforms, most notably, the "NEW MUSIC FRIDAY" playlist on Spotify, which gave us a lot of existing social media capital to begin with.

Infrastructure
Before working on any ad creative or content, the first series of steps involves creating and mapping the Digital Infrastructure that will go into the artists marketing ecosystem. With our strategy, Facebook and Instagram was the core of the operation, and the following are the items we used to deploy:
Create Facebook Business Manager Account – As a Facebook page, you already have the ability to boost posts (which essentially turns them into ads that can be displayed to users who don't follow you) both on FB and Instagram. But with a business manager account, you will have access to one of the most data-rich, and powerful advertising systems in existence. Not every page admin needs this, only the admin or agency who will be operating the campaigns. Here's a primer on how to properly structure all of the accounts you will be creating.
Create Facebook Ad Account – Now, as the ads admin, the best way approach is to create a new ad account for the particular artist or talent agency. It's preferable to create it and hand them administrative access (which will require a business manager account on their end), to allow easy onboarding or handoff.
Instagram Integration – You don't need to have an Instagram account connected to your FB page in order to advertise on Instagram – since FB still displays your ads using a mock account; but doing so displays the ad from your actual Instagram account, which lets users click through to your profile if they click on your avatar. This is a great opportunity to generate Insta followers. (Edit: as of 1/2018, you can create instagram campaigns with the objective of driving visitors to your instagram page directly, but it is only accessible from the Instagram app from a business profile).
Facebook Pixel Integration – This will likely be the most "techie" task (artists love using this word, a LOT). In this case, it means you might have to tinker with some code. The Facebook Pixel is "an analytics tool that allows you to measure the effectiveness of your advertising by understanding the actions people take on your website." For a better summary of why you need this checkout this guide.
The pixel code will be installed on your website to track visitors and provide a report of what pages they visit. This will help you segment them into separate audiences, covered in the next step. Additionally, you will want to install the pixel on the ticket sales page for your events/tour. With Daniella, they used two separate ticketing platforms and only PreKindle allowed us to plug in our pixel code. This helped us realize that moving forward, we will ONLY chose ticketing partners that allow us to do this. More on this in Part Two.
Create Facebook Audiences – Now we are getting into the strategy juice. Rather then blindly setting a demographic to target your ads to, use the power of Facebook's data to create audiences that have a high probability of being receptive to your music. A custom audience lets you match up FB/instagram users with 3rd party data, such as an email list, or website visitors as captured by your FB Pixel. You can also use the audience finder to create specific lists based on FB user data (example: M/F, ages 18-45, fans of – demi lovato, nick jonas, katy perry- in the state of Texas)
In the case of Daniella Mason, she's performed with and/or toured with both Nick Jonas AND Demi Lovato, so we created a specific audience made up of people who "like" or follow the pages of Demi Lovato and/or Nick Jonas, since they are more likely to engage with her ads due to her familiarity within those fanbases.
Create Lookalike Audiences – perhaps the most powerful feature on Business Manager, is the ability to create an audience of people who closely resemble your existing audience. When you create a Lookalike Audience, you choose a source audience (a Custom Audience created with a data partner, your pixel data, your mobile app data or fans of your Page) and FB identifies the common qualities of the people in it (ex: demographic information or interests). Then they find people who are similar to (or "look like") them. This makes it more likely that those people will be interested in what your ads are offering.
Google Tag Manager – For more advanced marketing cases, you can also create ads within Google's display network. If so, it is recommended to install Google Tag Manager, which then allows that container to display your google analytic code, your Facebook Pixel, etc.
GOALS, CONTENT, TARGETTING
One of our favorite marketing acronyms is GCT: define goals, create content conducive to that goal, and then strategically target it to best achieve those goals.
For the album launch campaign, here was our "GCT":
Goals -1. Spread awareness of the release to Daniella's existing fanbase (including those familiar with her material but don't follow her yet). 2. Expose the music to new fans. 3. Drive Spotify streams.
Content – Platforms – Facebook ads, Instagram Ads, Instagram Stories Ads, Facebook Canvas. Via Video or Graphics with sound.
Targeting – Existing Fanbase, Fans of similar artists, Music journalists, Radio Directors
Creative
One of the advantages of using Instagram to promote music (or any kind of art), is that the platform is already tailored to artists in its UI design and aesthetic. This means your ads are more likely to be effective if they follow the same clean, "artsy" look of the platform.
To exploit the relationship with Nick Jonas amongst his fans, we created a canvas ad specifically for them that includes a tweet of him praising one of her releases. We do whatever it takes to capture a users attention, and using someone they're already a fan of is less intrusive than trying to divert their attention to something entirely random.
With this in mind, we went fairly minimalistic with our ads, taking advantage of Daniella's equally minimalistic artwork to create something simple and soft on the eyes.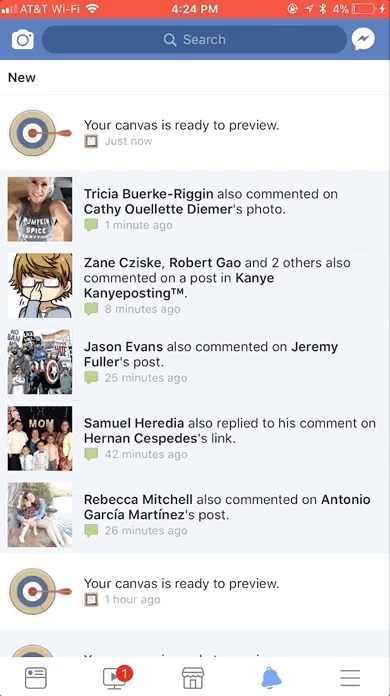 RESULTS
Author's note: As of 3/2018, Daniella Mason's album has over 1 Million streams on Spotify.
| | | | | | | | | |
| --- | --- | --- | --- | --- | --- | --- | --- | --- |
| | | Reach | Impressions | Amount Spent (USD) | Unique Link Clicks | 3-Second Video Views | Clicks (All) | New Page Likes |
| | | | | | | | | |

Ads clicks went to a landing page that included links to all the different streaming stores/apps.
In a two week period, 770 clicks were directed to this landing page, and 2 thousand clicks were made on the ads (likes, ad clicks, clicks on the link, profile clicks, etc).
In total, 710 new followers on FB and about 1300 on Instagram.
PRO TIP – For a quick boost in fans (helps with social proof), we added Mexico and Brazil to the list of FB ad targets for about 2 days. The list of "related artists" have huge followings in those countries and the cost per impression is cheaper which will get better results. However, there is a danger that click farms in these countries might result in "
fake followers
", for that we targeted fans who liked at least two of those related artists.
These results were achieved with an ad budget of under $1,000 for 1 entire month.
With 837K impressions, our total CPM (Cost per 1000 Impressions) was $1.51.
The more tailored your audiences AND your content, the more "shareable" your ads become, allowing you to get thousands of "free" or organic impressions.
ROI
Defining ROI is harder with an awareness campaign such as this. If you think getting someone to listen to your music is worth at least a dollar, than the ROI for this campaign would be about a 4/1 expense/revenue ratio.
Defining ROI and ROAS (Return on ad spent) becomes much easier when promoting a tour (assuming your Facebook pixel is installed), since with a tangible sales product you can put attach an actual dollar amount to a specific ad. We will go more in-depth when we discuss how we promoted her release tour in PART 2 of this Series.
Need help making this happen?
Contact us
to see how we can help make your launch as successful as possible.
Comments
comments